Meet PAIGE, San Francisco's promising young IT procurement chatbot
San Francisco city procurement officials are experimenting with a new chatbot for internal use that is expected to clarify one of government's most confusing processes. After a soft launch on Jan. 1, the Office of Contract Administration is now honing a digital assistant designed for use by workers across the city-county government who want to buy IT products, but aren't sure how. Her name is PAIGE. She speaks with a British accent, she's built on top of wit.ai, a natural language processing engine backed by Facebook, and she's here to help you, the government employee, buy a software license. Or a modem. Or some other piece of technology — just tell her what you need and she'll try to help. She can understand about 1,000 questions and has about 400 answers at the ready, and new functionality is being added all the time. Though still in the early stages and […]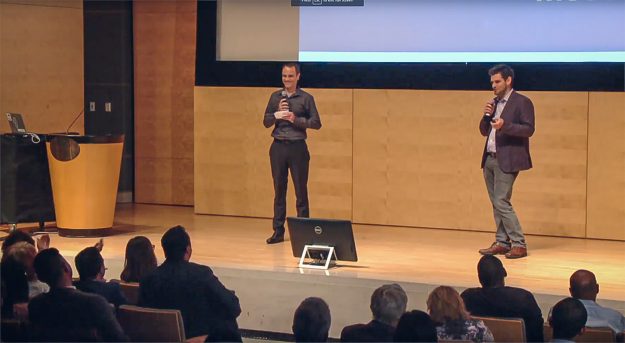 San Francisco city procurement officials are experimenting with a new chatbot for internal use that is expected to clarify one of government's most confusing processes.
After a soft launch on Jan. 1, the Office of Contract Administration is now honing a digital assistant designed for use by workers across the city-county government who want to buy IT products, but aren't sure how.
Her name is PAIGE. She speaks with a British accent, she's built on top of wit.ai, a natural language processing engine backed by Facebook, and she's here to help you, the government employee, buy a software license. Or a modem. Or some other piece of technology — just tell her what you need and she'll try to help. She can understand about 1,000 questions and has about 400 answers at the ready, and new functionality is being added all the time.
Though still in the early stages and only being tested for one purpose — IT procurement — developers are already scoping out other uses like business taxes, 311 service requests, and human resources. The project also coincides with a general renaissance in machine learning and natural language processing. The chatbots of the 1990s were novel diversions, but the chatbots being built today, like PAIGE, are a little more sophisticated.
PAIGE is built by Civic Chatbots, a spin-off of Yeti, a San Francisco tech company that makes apps and touchscreen kiosks, and integrates devices — like skateboards, power meters and jewelry — with sensors.
Yeti President and Founding Partner Tony Scherba told StateScoop his company has been working with chatbots for years, and even began experimenting with a tool for use by the San Francisco Department of Motor Vehicles "a long time ago," but it wasn't until 2018 that the time seemed right to turn it into a dedicated business.
"With how [city government is] structured and where the chatbot technology is at, it's kind of a perfect pairing right now," Scherba said.
Dean Lacheca, a research director at Gartner, told StateScoop in an email that the increased activity seen today in the chatbot marketplace is a function of recent advances in artificial intelligence and natural language processing technologies.
"Chatbots are one of the channels that governments are exploring as part of these strategies. This allows government to increase the quality and breadth of coverage of these virtual assistants," Lacheca said.
He noted that "risk and accountability issues" associated with AI lead most governments to keep chatbots on a short leash and limit the kinds of responses they can give. Those issues also tended to direct the market to develop internal-facing chatbots, rather than public-facing ones, but he says the technology is definitely on the rise.
Learning the rules
PAIGE's journey to the San Francisco contracting office began when Robert Henning, an executive fellow with the city who helps oversee IT procurement said he didn't want to repeatedly answer the same questions from city employees anymore.
"Every time someone asks me, 'What is an RFP?' a small piece of my soul dies,'" Henning told a crowd, who laughed and applauded, at a demo day last year as part of the city's Startup in Residence program.
RFP stands for request for proposals, and is a crucial component of any city's process for buying things. The idea is to ensure that the government is being fair by giving a wide array of companies a chance to compete for the money the city is planning to spend, and also to encourage competition and public oversight to ensure the city gets the best price possible.
The trouble is that the process is confusing, especially for employees in smaller agencies that don't buy a lot of technology. What if they just need a single software license for their daily work? Do they need an RFP? And what is an RFP, again, by the way?
"The challenge with government procurement is that it's very rules-based and when you actually look at the rules, it's a lot of information for people to digest and it's easy to get confused," Henning said.
And rather than read the rules, employees tend to ask other people who might know what to do. Aside from being an inefficient way of getting information, it also tends to be inaccurate, Henning said, because everyone tends to do things a little differently, inconsistencies begin to emerge both in how the rules are interpreted and applied.
And government doesn't do a lot to help. Henning says the written guidance is "scattered and threadbare."
Simplification, from the start
During interviews with city staff as part of the development of PAIGE, Scherba said they discovered that employees had little idea of where to turn for answers.
"None of it is complex in and of itself, but if you've never done it before and you don't know how to do it and where to find this information, you end up looking online and Google-searching things and looking on the DMV website, and there's not really great answers to how you do this," Scherba said.
And in any government organization, the rules tend to be complex. It's as if there's a flowchart for how to do everything, except the flowchart split into puzzle pieces and embedded in the collective minds of seven people hiding cubicles across the city.
To make things more difficult, government is required to serve everyone, which means that even processes that seem like they should be simple, aren't. As standup comedian Brian Regan once pointed out, the California DMV has in its policies a contingency plan for fingerprinting an applicant who is missing thumbs. Government needs to think of everything.
The chatbot is the city's answer to the problem of "scattered and threadbare" institutional knowledge. The chatbot answers and asks questions, similar to popular tax software like TurboTax, to get the user the information needed.
Scherba said the objective is gathering the city's institutional knowledge and "bottling it up and making it accessible so people aren't flying blind and trying to figure stuff out on their own. We actually heard from a number of people that they'll get so frustrated with trying to buy things within the city, like a simple software license, that they'll end up just buying it themselves and eating the cost if it's something they need."
Simply, people just want the most direct route to get what they want, Henning said. And while the tool isn't quite ready for a wide release yet, he said he think this is going to provide that direct channel that is so needed in government.
PAIGE isn't just a chatbot, Scherba said, but a platform that allows the developers to monitor the questions being asked, continue improving the algorithm, and ultimately make a tool that is viable for use in other agencies and other parts of the country.
"The platform that we've built is sort of like a training portal where we could take this and go to a different city which has different procurement rules and roll it out and just give it different training," Scherba said.
When asked about PAIGE's performance today, both Henning and Scherba were careful not to overstate anything.
"It works, and the city is excited about it," Scherba said, adding that they're planning to add new functionality and perfect the technology within the next year or so.
Henning is also hedging his bets. He said he isn't showing PAIGE to people yet, because he knows how good it's going to be and wants to ensure he makes a good first impression.
"I think there is enormous scope for chatbots to add value to government," Henning said. "These bureaucracies [have] a lot of rules, there's a lot of regulations, they're difficult for people to navigate, so I'm definitely excited about how this technology can make government more accessible to people and more responsive."