VR helps Texas students prepare career paths early
VR simulations dramatically improved students' self-reported confidence with their career options after high school.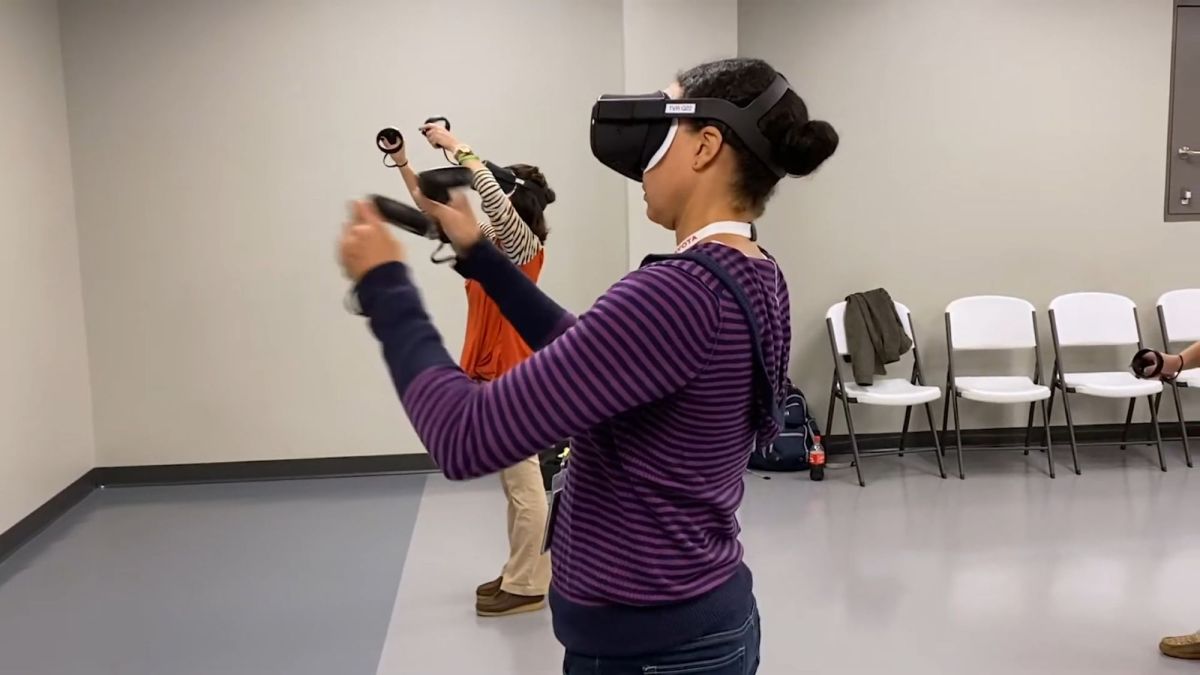 A community college in rural Texas on Tuesday released results of recent pilot studies showing that virtual reality is an effective tool at helping junior high and high school students select a career path.
Coastal Bend College, a Hispanic-serving community college about 50 miles northwest of Corpus Christi, replaced paper-based assessments used at one junior high and two high schools with virtual reality software developed by Transfr that allows students to virtually test out various jobs, like auto mechanic or cabinet maker. College administrators said surveys given before and after VR showed the simulations dramatically boosted the confidence students had with their career options after high school.
Braden Becknell, Coastal Bend's director of workforce development and continuing education, told EdScoop that most the cities her institution's four campuses serve have between 10,000 and 20,000 people, and just a few sectors — such as oil and gas, education and health care — tend to crowd out other options that might arise in students' minds.
"A lot of the junior high and high school students in our area, when you asked them what you wanted to do after high school, a lot of them had the exact same answers," Becknell said. "It was nurse, teacher, the things that are seen every single day, but especially since we're in a rural area, they didn't necessarily have a wider view of what they could do because they don't necessarily see it very often. That's where we swa the VR goggles come into play to give them more opportunities to show them what they can do."
Videos on Transfr's website demonstrate its VR platform, which includes training simulations that walk users through common jobs undertaken by various professions. Virtually changing the oil on a car or conducting an engine cylinder compression test, for example, gives students a chance to receive feedback from a virtual coach — "Great work!" a coach says in one video after the user finishes wrenching a part onto the underside of a car — while results are logged for faculty review.
Becknell said she thinks the simulations will help the college point more students toward career paths with liveable wages, whether those are jobs that require two- or four-year degrees or Coastal Bend's continuing education program.
The combination of 76% minority enrollment and Coastal Bend's rural setting also creates a generational stumbling block that VR might also help the institution overcome, Becknell said.
"One of the things we found when working on this is the level of education of the parents is not as high as you would see in some of the larger cities," Becknell said. "So if the student doesn't see what their parents are doing, they may not know what they can do."
The software also provides a new avenue for schools to meet a 2015 state guideline for workforce readiness, called Chapter 127. It says students should investigate at least one career within 16 "career clusters," identify the paths to such a career and study labor market information, like salary. The guidelines, which include sections for junior high and high school students, also recommend studying practical job-seeking skills like how to write a resume or a letter of intent.
"I see this as a giant step forward," Becknell said. "One reason is we are in a rural area, we have four different campus locations and they are all in rural areas. So being able to reach students in a way we weren't previously able to and have them actually test out future careers seems like a giant [step forward] for us."
Becknell said the college plans to conduct more pilot tests this year and eventually implement the technology on a larger scale.