How Girl Scouts built a cyber challenge that made girls feel included
In computer science classes that are often mostly boys, girls say finding a place in STEM is tough. The Girl Scouts are asking students how to fix it.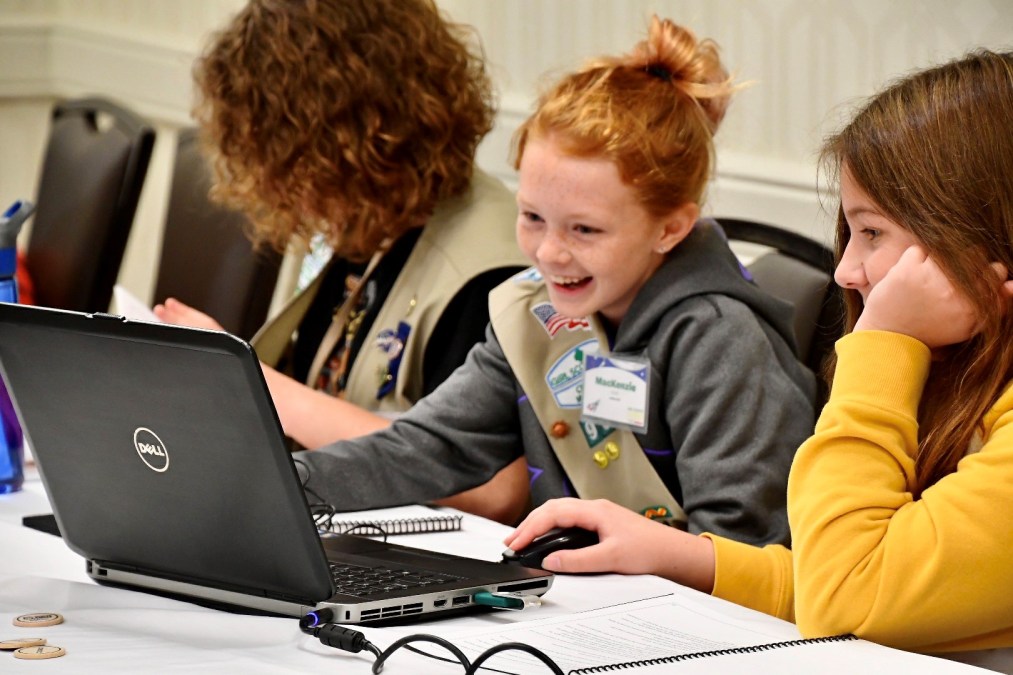 Engaging girls in STEM education has been a strong focus for the Girl Scouts of the USA, but including students in the development of curriculum and projects has opened up a new way to help solidify their interest in technical subjects. The first-ever Girl Scouts Cyber Challenge, developed in partnership with the defense contractor Raytheon, was designed to give girls a sense of what a career in science, technology, engineering or mathematics could look like.
Last month, nearly 3,000 Girl Scouts from 10 cities participated in the challenge in which teams immersed themselves in an "adrenaline-filled simulation" to defend the oxygen supply of a fictitious moon colony from hackers, by using cybersecurity and coding concepts.
"I hope each girl left Cyber Challenge feeling confident in their abilities, and inspired to explore what a career in STEM or cybersecurity could offer them," Raytheon engineer Catherine McLean told EdScoop.
To ensure the initiative was relevant, fun and engaging for girls, the developers gathered input from from a youth advisory board. The group of Girl Scouts and Raytheon developers held several digital meetings where the girls were able to propose ideas for the simulation, suggest improvements to the curriculum and help develop a final product that would meet the needs of girls and give them a relevant and rigorous introduction to cybersecurity.
"I think that creating that open dialogue between youth and adults is absolutely essential to any organization trying to create curriculum for other kids," said Sydney, a high school junior from Indiana and member of the advisory group.
Sydney, who's planning to graduate high school a year early to attend Purdue University's aerospace engineering program, said her journey with computer science began with the Girl Scouts.
"I think that as I was growing up, there were a lot of different components of what it is that really got me interested in cyber and computer programming," she said. "One of the biggest things was that my Girl Scout council would host some events — quite often actually — and at a couple of them there would be cybersecurity things or computer coding and I really kind of latched onto those activities."
'For kids, by kids'
But as she took more STEM classes in school, Sydney said, she came face-to-face with the stereotype that boys are better suited for careers in STEM and sometimes became discouraged.
"There were two girls and over 30 guys in that engineering class," she said. "And so it was really difficult for myself and the other female in there to stand up to a room full of guys that were saying 'well you guys aren't good enough' and 'we have to do the building because you can't do it.'"
The Girl Scouts Cyber Challenge hopes to level the playing field by giving girls an opportunity to explore and engage with STEM subjects in an environment that doesn't pit them against the gender inequality that the real-world STEM workforce still struggles with. The cybersecurity development that the Girl Scouts are doing is absolutely "essential" to getting girls into STEM, Sydney said.
"Getting them interested, not only in cybersecurity, but getting them comfortable in other STEM areas where they might also take that information and take that confidence and the knowledge and go out into their lives at school or other organizations that they are involved in and have the courage to stand up and say, 'Yes, I'm a girl and I'm interested in STEM fields,'" she said.
As for including youth input in the development of the cyber challenge, Sydney said she believes the project benefited from having a "for kids, by kids" approach.
"We were really fairly active in the creation of the new program and it has been really exciting to see it start from just a couple of ideas on a whiteboard brainstorming what we should do to an amazing new project," she said.
Formative years
Sydney said she and her peers on the advisory board were a critical voice in the development process to ensure the cyber challenge would be relevant to other girls.
"Since we involved girls early on in the planning of the Cyber Challenge," McLean said, "they were able to describe their vision of the challenges, … problems that would encourage them to think critically while practicing the different skills utilized in the cybersecurity industry."
In 2020, the Girl Scouts plan to expand the program's reach to include all 111 local Girl Scouts councils across the country, giving girls the opportunity to explore STEM during a formative time in their lives.
For Sydney, she said that programs like this are essential to closing the gender gap in STEM and that she hopes the challenge gives other girls the confidence to pursue their passions.
"If I could give any advice to any young girl starting out in STEM, it would be to not get discouraged, … keep pushing and ignore the haters out there," she said. "I would tell the young girls to surround themselves with positivity and keep pushing themselves with the same determination and commitment that they had whenever they first chose to get involved and to not lose sight of their goal of what they want to do."