As Virginia Gov. Terry McAuliffe passes the torch, his technology Cabinet looks back
On Saturday, Gov.-elect Ralph Northam will be sworn in as Virginia's new leader, replacing Terry McAuliffe and bringing a new Cabinet with him. And while the incoming Democrat has telegraphed his intention to continue the commonwealth's efforts on technology workforce development, education, economic development, data analytics and autonomous systems, the transition marks the end of a short but influential pro-technology reign under McAuliffe. Northam hasn't yet named his secretary of technology, but the person who holds that positions now — Karen Jackson — told StateScoop it won't be her. It's an expected development as incoming governors typically prefer to make political appointments tailored to their unique approach and priorities. That means Deputy Technology Secretary Anothony Fung is out, too. State Chief Information Officer Nelson Moe, Jackson said, will be kept on board "for the time being," but the potential of him staying on with the new administration has not yet […]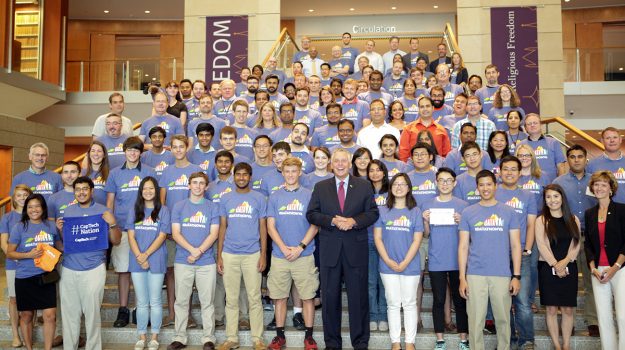 On Saturday, Gov.-elect Ralph Northam will be sworn in as Virginia's new leader, replacing Terry McAuliffe and bringing a new Cabinet with him. And while the incoming Democrat has telegraphed his intention to continue the commonwealth's efforts on technology workforce development, education, economic development, data analytics and autonomous systems, the transition marks the end of a short but influential pro-technology reign under McAuliffe.
Northam hasn't yet named his secretary of technology, but the person who holds that positions now — Karen Jackson — told StateScoop it won't be her. It's an expected development as incoming governors typically prefer to make political appointments tailored to their unique approach and priorities. That means Deputy Technology Secretary Anothony Fung is out, too. State Chief Information Officer Nelson Moe, Jackson said, will be kept on board "for the time being," but the potential of him staying on with the new administration has not yet been made clear.
"When you sign on to these gigs, you sign on for four years and for your governor," Jackson said. "And some people stick around, but it's not something you count on by any stretch of the imagination."
Uniquely, Virginia does not allow governors to serve consecutive terms. In his four-year run, McAuliffe advanced, through dozens of initiatives, what he called "The New Virginia Economy," an economic development plan that prioritized programs that would create new science, technology and health jobs and position the state as a national leader. He encouraged projects that advanced development of emerging technologies like autonomous systems, data analytics and cybersecurity perhaps more than any other governor during the same period.
"I don't think you can find another governorship that has accomplished the amount of work that has been accomplished under the McAuliffe administration," Jackson said. "It's been like a flash going off and four years has come and gone."
Jackson said she "couldn't feel better" about the state's advancement of technology in the last four years, particularly in the areas of cybersecurity, autonomous systems, and data analytics.
As chair of the National Governor's Association, a responsibility he passed on to Republican Gov. Brian Sandoval of Nevada in July, McAuliffe led a cybersecurity initiative called Meet the Threat, a platform he used to encourage leaders across the country to dedicate more attention and resources to protecting state infrastructure from online attacks. NGA decided it was such an important mission, it's become the only initiative the group has continued to support beyond a chairman's tenure.
The state led projects to encourage education and job growth in cybersecurity, including the formation of more than a dozen new "Centers of Excellence" for cybersecurity research — the state now has a total of 17 such institutions.
Under McAuliffe, K-12 students were put under new requirements to learn cybersecurity and computer science skills at every grade level.
The McAuliffe administration saw the state become one of the Federal Aviation Administration's six drone testing sites as part of a push to advance the technology and its governance so that it can be widely used in the commercial sector. His administration led the first FAA-approved medical supplies delivery to the Remote Area Medical facility in rural Virginia, and the Virginia Polytechnic Institute partnered with Google and Chipotle to test burrito delivery on campus. The governor himself rode in a small autonomous aircraft over the ocean to usher in the state's first unmanned systems runway.
Inside state government, too, the McAuliffe administration encouraged the use of programs that would automate operations, Jackson said.
"The whole industry has just blossomed because the governor has been very staunch on making sure we have a pro-autonomy policy environment and regulatory environment," Jackson said.
Virginia also made advancements in data analytics, but "that's a very tough nut to crack," Jackson said, noting that while the state is far more comfortable with the idea of data sharing than it was four years ago, new legislation may be needed to unlock the technology's full potential in state government.
Fung, who started as Jackson's deputy in February 2014, said that working at the state level, he saw a level of flexibility in government that he hadn't been exposed to during his time as a federal contractor. From 2001 to 2012, Fung was CEO of Catapult Consultants, and he said he plans to return to the entrepreneurial world with a new business that helps government meet its goals through emerging technologies like data analytics and artificial intelligence.
"I think that state governments are starting to realize they need to look holistically in terms of what they have in terms of their resources," Fung said.
Fung said the governor's data analytics internship program, which pairs university computer science students with government offices that have problems that can be solved with data science, stood out to him as an example of one of Virginia's most important programs under McAuliffe.
"It allowed them to look beyond their standard procurement and budgetary constraints," Fung said.
Outside of government, too, McAuliffe encouraged new uses of data to address societal problems. The 2017 Governor's Datathon, the first competitive event of its kind in the commonwealth, produced 15 new ideas for using technology to address the national opioid-addiction crisis.
The breadth of what the outgoing administration accomplished was a function of McAuliffe's willingness to give his team "freedom and autonomy" to get things done, Jackson said.
"He's told us since day one, 'I want you to think big. I want you to take chances,'" Jackson said.
After 18 years with the state, Jackson has worked under several governors, but she said McAuliffe was the best because he hit the sweet spot on all the technology initiatives that bridged education, the state's businesses and government. What's more, she said, is that he was singularly dedicated to his mission.
"He was the perfect governor to bring all these things together," Jackson said. "I mean, how many governors would jump in a drone?"