Baltimore names Intel executive as newest CIO
After several rapid changes in IT leadership in recent months, the City of Baltimore is betting big on its newest chief information officer. Frank Johnson, the city's newest CIO and chief digital officer, becomes the fifth leading IT official at the Mayor's Office of Information Technology in five years. Johnson, who started in early September, replaced acting department head Evette Munro, who resigned in July after taking over for former CIO Jerome Mullen, who was released in February just a couple months after the inauguration of Mayor Catherine Pugh. The Pugh administration is betting big on Johnson, a longtime Intel sales executive, who is now among the highest paid officials in the city with an annual salary of $250,000, according to The Baltimore Sun. His salary tops that of the mayor, who is paid $176,000, and the police commissioner, who made $200,000 last year. Johnson also earns nearly $100,000 more than previous […]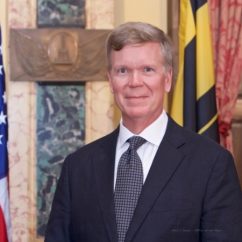 After several rapid changes in IT leadership in recent months, the City of Baltimore is betting big on its newest chief information officer.
Frank Johnson, the city's newest CIO and chief digital officer, becomes the fifth leading IT official at the Mayor's Office of Information Technology in five years. Johnson, who started in early September, replaced acting department head Evette Munro, who resigned in July after taking over for former CIO Jerome Mullen, who was released in February just a couple months after the inauguration of Mayor Catherine Pugh.
The Pugh administration is betting big on Johnson, a longtime Intel sales executive, who is now among the highest paid officials in the city with an annual salary of $250,000, according to The Baltimore Sun. His salary tops that of the mayor, who is paid $176,000, and the police commissioner, who made $200,000 last year.
Johnson also earns nearly $100,000 more than previous city officials who held the same position. Pugh said the increased pay reflects the job's expanded responsibilities, which include cross-agency system modernization, ensuring the security of the city's data, and participation in mayoral initiatives.
"I need somebody that's a visionary who understands that the future is technology," Pugh said in a statement in July.
The city is now amid several major legacy system modernizations, including projects to replace mainframes that are about 40 years old and reduce paper-based operations. Baltimore also recently completed a mostly successful migration of its water billing system, although some customers received bills that covered inaccurate billing periods, the Sun reported. The water billing platform was launched by the city's Department of Public Works in January to help residents track water usage to spot leaks and promote water conservation.
Johnson is also charged with leading the city's side of a smart city research project led by local university researchers. The $100,000 project is funded by the National Science Foundation as an exploration of how data science and street-level sensors can help understand and address issues faced by low-income citizens in west Baltimore. The project's lead researcher, University of Maryland Professor Gerrit Knaap, told StateScoop his team is still working to build a constructive relationship with the city since the change in administration.
Part of Johnson's expanded responsibilities may include an evangelical role, as his LinkedIn profile describes his position as one that "include[s] scaling the local IT ecosystem to drive awareness [and] tech investment in Baltimore."
Before joining the city, Johnson spent more than 25 years with Intel, where he served in various capacities as a sales leader. Most recently, Johnson was the vice president and general manager of the Intel Americas Industry Sales Group.