Hildebrand touts organic transformation as she departs DOT
From the moment Vicki Hildebrand became CIO at the Department of Transportation in October 2017, she made a point to drive small victories that served the integral elements of an enterprisewide transformation. Tasked with modernizing the IT infrastructure of a department with 11 component agencies, Hildebrand, a former Hewlett-Packard executive, sought to bolster DOT's cybersecurity […]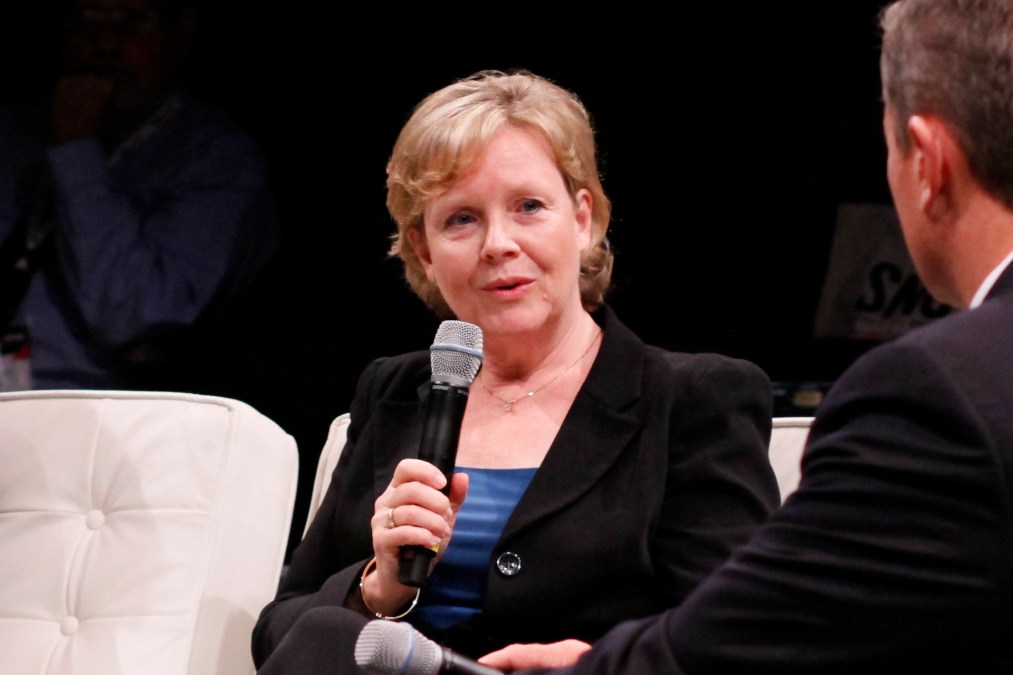 From the moment Vicki Hildebrand became CIO at the Department of Transportation in October 2017, she made a point to drive small victories that served the integral elements of an enterprisewide transformation.
Tasked with modernizing the IT infrastructure of a department with 11 component agencies, Hildebrand, a former Hewlett-Packard executive, sought to bolster DOT's cybersecurity posture, reduce its duplicative spend and fuel technology upgrades through internal cost savings.
It was the small wins, she said, that drive buy-in and momentum, building eventually into a critical mass that results in the wholesale transformation of the department.
Prior to her last official day on Jan. 4, she sat down with FedScoop to talk about her current successes, the future of the department's IT reforms and her advice for whomever replaces her.
Editor's note: The transcript has been edited for clarity and length.
FedScoop: During your tenure, you launched a lot of projects to facilitate IT modernization. Can you talk about what the experience has been like?
Vicki Hildebrand: It's been phenomenal. I have loved this job more than any other job I've ever had, and that's saying a lot because I've been around for 36 years. But the reason is because I've got this immense sweet spot between the coverage from the secretary and her understanding of how important technology is to the mission, a great leadership team that was just hungry for change, support from the rest of the department for a more centralized enterprise view and approach to IT and an enormous opportunity. I mean, you put all that together and it's an IT professional's dream. And I'm just sorry that I'm not going to be able to see more of it come to fruition.
We are going to be centralizing IT and getting rid of some of this federated approach over time, and I now believe the team knows what good looks like. So I feel very confident that as things progress, that they know what they're after.
So it's been a wonderful experience. I'm very proud of the direction and what we've been able to accomplish. It's not nearly as much as I wanted to get done. I really expected and hoped to have the full tenure of the secretary, that was my goal. But my family needs me, and it's got to be first.
I thought about a leave of absence, but in this situation, you don't know in two months that it's going to be better. So it's the right thing to do.
FS: Not to ascribe you a moniker, but if there is one term I would associate with your tenure, it's BHAG (Big, Hairy, Audacious Goals).
VH: I cannot take credit for that because the BHAG is an old business school term. It just hasn't been used in a while. It goes back a couple of decades, and it was one that people either hadn't heard or hadn't heard a long time, so they really adopted it.
But those BHAGs were never meant to be goals that we accomplished. They're directional because I believe in an agile culture. You know, I get really grumpy when people talk to me about five-year plans. I've been around a long time, I've done my share of five-year plans and I've never implemented any of them. I'm telling you that in two years you could try a two-year plan and you would not be implementing what you planned for that second year because our world is changing so fast. So that's why I wanted these BHAGs, because I wanted them to be directional.
We have to upskill the workforce, we have to eliminate these cyber-vulnerabilities, we've got to automate and bake intelligence into our software and our list is constantly changing. We've got our top list and then we change it as we need to. Have a plan and be willing to change it, and for me, a plan is a focus.
FS: Can you talk about where things are in terms of the milestones and what you are excited about right now?
VH: So we've done a lot of the basic cleansing, and what I mean by that is we had so much duplicative spend. Again, we're a federated agency and each of these modes, we were going after their IT needs independently. And in some cases, we had the same vendor, two different modes and two different prices.
We had gone after several contracts and came up with candidates for consolidation broken out in these categories. Just within in a couple of months, we set ourselves a goal to find $15 million and we're actually at $16.8 million. I mean, we blew the top off of it.
We've done a lot with setting up enterprise solutions, cloud solutions. I don't believe in single vendor anything, because I want them competing. I want to be able to shift on a dime. If somebody is not doing a job that I think they should be, I want them to have a competitor who is willing to step up. And the way we do procurement in the government, you can't easily make those decisions. So I never single-vendor anything. We now have a multi-vendor cloud solution that we did not have before that people can put workloads in.
We've started on the workforce, and this is one that I really wish I could spend more time on. Because we have, across the government, some of the most lovely, wonderful people who are program managers and have all the certifications and they don't know IT.
So they're overseeing IT contracts, and the vendors are pulling the wool over their eyes. They're delivering lousy service, lousy capability for millions of dollars and it takes multiple years. Because what they're really doing is they're digging in and establishing these relationships that they want to go on and on. And guess what, if I were a vendor, I'd do the same thing. I really would. It makes sense, but it's wrong. It's wrong for the taxpayer, it's wrong for the agency, it's wrong for the quality of the services that we get. And so, we're giving people an opportunity to upskill and train, people who want to acquire some of that technical capability.
We've also really started to get our arms around cyber. So we've brought the cyber resources together across the department, and we're in the process of making sure we've got more consistency around finding our vulnerabilities. We're pen testing the different modes, another sense of cleansing the department. We're doing a lot with the tooling to make sure we've got the right tooling. So consistency, the right tooling, getting ahead of the bad actors is the approach we've taken to cyber.
Where I haven't been able to do as much is around the intelligence software space and the transportation landscape. We had a BHAG to work with all of our partners out there in the transportation world, so all the airlines and the Amtraks of the world and the motor carriers, to really have a strategy for the landscape from a cyber perspective. We've made introductions and we've just started to get to know that community, but we haven't been able to do as much with that.
We have some robotics and automation, but we don't have as much as I wanted. We have been sticking our big toe in the whole machine learning in artificial intelligence space. Although, I think sometimes it's a sledgehammer when you don't need a sledgehammer. Because it's the new cool, sexy thing, people jump to it. I've been wanting to make sure that the use case is right, but there's a lot of modernization in that space that needs to be done.
FS: So much of the challenge of government that we've heard is due to trying to get CIOs a seat at the table, getting them in sort of unison, or at least moving in the same direction, with the CFO, the CHCO and others. Are those things that you experienced, that everybody had to sort of buy into this culture?
VH: I have the most wonderful secretary. I report directly to Secretary Chao, and she made it very clear at the beginning of my tenure here that technology and IT were important. She came from Labor, where things are more centralized. This federated approach has been challenging for us, so she made it very clear to all the modal administrators that the initiative that we were driving was important. As soon as she said it was important, I didn't have to socialize this. Budget was on board, HR was on board, modal administrators were on board and we problem solve if there's an issue, but I absolutely started with a seat at the table. I don't know what it's like to be in an agency where the CIO was more buried or doesn't have that kind of air cover. I've had it from day one.
FS: We've spoken previously about your wish to temporarily on-board senior tech executives from the private sector to help drive modernization, can you talk about any plans you have underway?
VH: It isn't approved. It's with the attorneys right now because we don't want to do anything we're not supposed to, but it's not a lot different from what is happening at the federal level, where they're looking at some vehicles. Having come from the private sector, I know a fair number of CIOs out there. What we're trying to do is create a program where we can bring this of fresh talent in for a few years of service and just make it as easy as possible.
FS: What advice would you impart to your potential successor?
VH: Well, first of all, I want to compliment [former DOT CIO] Richard [McKinney]. I've met Richard a few times, and it's been it's been fun because he provided me with a platform to start from. And some of the things that he put in place to get that visibility [into IT spend], I literally started and kept going. So my hope is I can do the same for the next CIO.
First of all, trust your team. I have an incredible leadership team. They just know how to make things happen. I would trust the leadership team, and I would continue to ask the question: But why?
I would suggest to my successor that you have a platform by which to continue moving and continue to challenge. Just continue to challenge why you can't get done what you need to get done. What happens is then you find where the true line is. I think too many people think they know where the line is, but they don't challenge it and they're not really where the line is. If you keep challenging and pushing that line, it's amazing. You can get a 10-month vehicle down to a few months. You can get a multi-year application development effort down to a couple of months. You can bring in an employee without all that overhead if it's a term [appointment]. You can do those things, but you won't know unless you ask but why, but why? That's how I found where those lines were, and I have a great leadership team that helped me find them.