'InnovateOhio' office will modernize state government, says incoming Lt. Gov. Jon Husted
When Ohio Secretary of State Jon Husted moves into the lieutenant governor's role next Monday, he'll be charged with leading a new statewide office dedicated to developing technological innovations in the state government. And in an interview with StateScoop, the 51-year-old Republican said Gov.-elect Mike DeWine has given the agency, called InnovateOhio, a wide berth to modernize public services. "There's a ton on the menu," he said. Husted said the new office's mandate is still being defined, but that he's already identified a few objectives he'll pursue. Training programs for industrial workers to learn robotics, getting more state agencies to share their data with each other and incorporating blockchain technology into government functions are all "on the menu." "At the global level, it is using technology on how government serves people," Husted said. "We want to make government more customer-service friendly, improve outcomes and save money, use data analytics and […]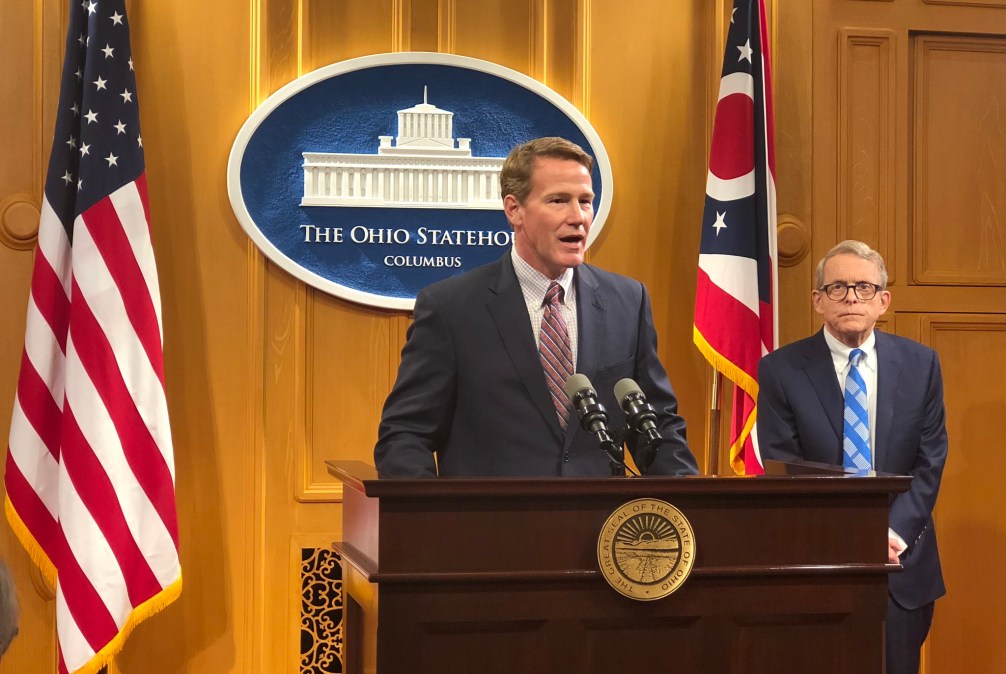 When Ohio Secretary of State Jon Husted moves into the lieutenant governor's role next Monday, he'll be charged with leading a new statewide office dedicated to developing technological innovations in the state government. And in an interview with StateScoop, the 51-year-old Republican said Gov.-elect Mike DeWine has given the agency, called InnovateOhio, a wide berth to modernize public services.
"There's a ton on the menu," he said.
Husted said the new office's mandate is still being defined, but that he's already identified a few objectives he'll pursue. Training programs for industrial workers to learn robotics, getting more state agencies to share their data with each other and incorporating blockchain technology into government functions are all "on the menu."
"At the global level, it is using technology on how government serves people," Husted said. "We want to make government more customer-service friendly, improve outcomes and save money, use data analytics and determine what things work best. But to do it, particularly for a midwestern state, we have to be attractive to talent and become a more innovative state."
InnovateOhio was created by a law signed earlier this month by Gov. John Kasich, but Husted will come into it with a broad mandate to reform the state government's use of technology. One of the office's goals is to not just make the state attractive to outside business, but also make the state government itself attractive to new talent.
"If you have some interesting and cool things for people to do, people will want to do that," Husted said. "Nobody says I want to be innovative and creative and go work for government. You do have young entrepreneurs saying 'How can I help?'"
Historically, Ohio's constitution does not give the lieutenant governor much more than a ceremonial role. But the state's recent governors have usually given their lieutenants control over a specific agency. Outgoing Lt. Gov. Mary Taylor, for instance, doubled as head of the state insurance department until May 2017, when she launched an unsuccessful bid for the Republican Party's 2018 gubernatorial nomination she lost to DeWine.
As head of this new agency, Husted said he will work in conjunction with Ervan Rodgers II, DeWine's pick for chief information officer, and Matt Damschroder, DeWine's nominee to lead the Department of Administrative Services. (Damschroder currently serves as deputy assistant secretary of state and state elections director.)
While InnovateOhio's agenda is yet to be written, DeWine made government technology reform a major plank of his 2018 run. His campaign proposed several initiatives under the InnovateOhio banner, including the development of a statewide platform to facilitate data sharing between agencies, the growth of data analytics in driving policy decisions, the use of blockchain technology to secure government documents on a distributed ledger, and funding skills training for as many as 10,000 workers seeking certifications in robotics, coding and other technical fields.
Like many other new administrations, DeWine and Husted also have designs on expanding broadband internet access throughout their state, especially rural pockets.
"There are 1 million people who don't have access," Husted told StateScoop. "How do we get more of them, and the students in the rural part of the state, to participate? If you're a high-school sophomore, and you're interested in computer science, we should help you navigate that."
But Husted, who was first elected secretary of state in 2010, was most passionate about modernizing public-facing government functions, even if laws and regulations haven't caught up with the technology. He offered an example of hunter who kills a deer and creates a digital game tag on the state wildlife office's website, but then can't get it butchered because regulations require printed paperwork showing the animal is that hunter's property. If the butcher had access to the game-tag database, the deer could be harvested.
"My point is even when we get technology in place, the law lags," Husted said.
He added that forward-looking laws can also get ahead of the technology. He said that when he took office as secretary of state, he was frustrated that the Department of Motor Vehicles hadn't shared residents' information — including names, dates of birth and driver's license numbers — that could be used to verify applications for absentee ballots with his bureau.
"The data-siloing issue is huge," Husted said. "If you could just get Medicaid and the Department of Job and Family Services and the Department of Health and other entities to share, you could drive better outcomes for people. Knocking down barriers between the disruptive and the risk-adverse — that's what I see my job as. The office of InnovateOhio will look at the customer journey from the point they contact government to the point of their last service."