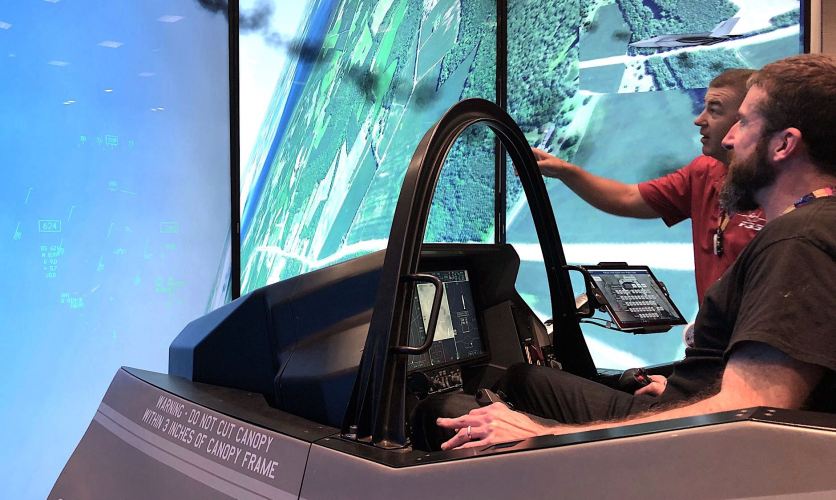 At DEF CON, there was hiring along side hacking
The Defense Digital Service's newly minted chief, Brett Goldstein, told Shannon Vavra that he considered the first-ever aviation "village" at the DEF CON security conference to be a recruit-rich environment. "In this room and throughout the convention is some of the best security talent in the world. ... This is a win for me if I can spark the imagination of this community, get them to understand we want to collaborate with them." Will Roper, the Air Force's assistant secretary for acquisition, technology and logistics, said the service still has gaps in how it secures its systems against real-world adversaries. "We have teams of hackers in the Air Force but I don't think we have enough and I'm not convinced that they represent the very best hacking that we would experience in the battlefield," Roper told reporters during a tour of the village. Shannon has more from Vegas.
A Message From AWS Educate
With over 1,500 institutions and hundreds of thousands of students who use AWS Educate, we wanted to take you on a trip around the world and highlight how students are learning and innovating with the cloud. Learn more.
State Department saw 'significant' IT staffing reductions during federal hiring freeze
Attempts to protect IT jobs at the State Department during the federal hiring freeze failed to prevent "significant" staffing reductions, according to a new report. The presidential memo ordering the hiring freeze in January 2017 gave department and agency heads the authority to exempt "critical" positions in IT and cybersecurity. But the State Department's Office of Inspector General found the exemption review and approval process developed by the Bureau of Human Resources "time consuming, inefficient and frustrating." Dave Nyczepir has more.
How to get more young people involved in civic tech, according to young people
The federal government's tech workforce, much like the government's workforce writ large, needs an influx of young talent. But what does it take to attract young people? Recently a few certified ambassadors of the young — namely a panel of Coding it Forward's summer 2019 Civic Digital Fellows — offered their perspective during the program's demo day. Coding it Forward and the Civic Digital Fellowship, founded in spring 2017, provide a liaison between agencies and bright students from universities across the country. The program has grown in both size and stature year over year, from 14 fellows at a single agency (the U.S. Census Bureau) in summer 2017 to 55 fellows at six agencies this go-around. Tajha Chappellet-Lanier has more.
Tell us how your agency is closing IT skills gaps
If you work in federal IT, take our brief, anonymous survey on how well agencies are doing to reskill and upskill the IT workforce. Answer our survey here.
South Texas districts open cybersecurity careers program
School districts and businesses in Texas' lower Rio Grande Valley have partnered up to create a new pathway for their high-school students to enter the cybersecurity workforce. Funded by a $700,000 grant from the Texas Education Agency, the college and career regional cybersecurity pathway, or CCRCP, will combine the resources of South Texas College and three school districts — Pharr-San Juan-Alamo Independent School District, Hidalgo ISD and Valey View ISD — together with private businesses, to give students opportunities to pursue careers in cybersecurity. In the lower Rio Grande Valley, systems analysts, programmers and network and system administrators are some of the region's fastest growing occupations. Betsy Foresman has more.
USDA unveils program to develop next generation of CIOs, CISOs
The U.S. Department of Agriculture announced a new program to develop chief information officers and chief information security officers. Called the CIO/CISO Multi-Agency Senior Executive Service Candidate Development Program (SES CDP), it's accepting applications from current federal employees looking to lead the department's IT office. Applicants must have previously managed subordinates and be General Schedule-14 or above, according to the USAJOBS.gov posting. Dave Nyczepir has more.
Talent exchange programs expanding in the secretive intelligence world
Long-championed talent exchange programs are catching on as a way to sharpen a thin cybersecurity workforce and connect agencies across the intelligence community. Multiple bills and executive orders have recently codified an idea that has been piloted since the mid-2000s in the IC to improve cross-agency collaboration. The latest iterations of the idea have sprung up in the latest Intelligence Authorization Act, as well as another bill currently moving through the House and a recent executive order that broadly push for rotating cybersecurity experts across the government. The idea is to let intelligence community officials dabble across agencies and sectors and sharpen their skills through new experiences. Jackson Barnett has more.
DHS's Jeanette Manfra: 'I've always been drawn to public service'
CISA's Jeanette Manfra details her journey into federal service. Watch more here.