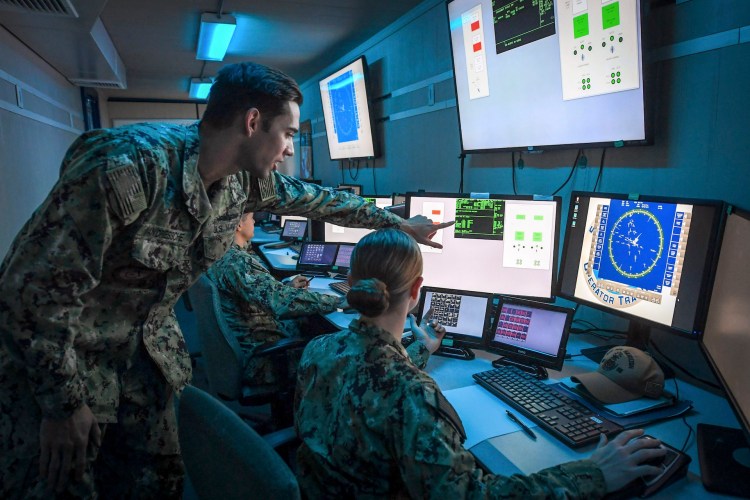 A STEM Corps for DOD
Reps. Jim Banks, R-Ind., and Andy Kim, D-N.J., have proposed legislation that would create a stream of STEM talent for the Department of Defense by offering tuition assistance in exchange for service in the department. Two years of tuition coverage would go to graduates who serve four years in the DOD in good standing. Other perks include the potential to work for one of those years with an "industry partner," according to a release. "The Department of Defense and defense industry face a critical STEM workforce shortage," Banks said in a statement. "We need to attract and recruit young STEM and computer science-oriented staff to work on cybersecurity, artificial intelligence and other critical projects to create a more technologically agile national security workforce." Jackson Barnett has the story.
A Message From AWS Educate
With over 1,500 institutions and hundreds of thousands of students who use AWS Educate, we wanted to take you on a trip around the world and highlight how students are learning and innovating with the cloud. Learn more.
Battlefield tech, but for teleworking
The Air Force is scaling up tech that was meant for the battlefield to keep its acquisition professionals connected during the pandemic. Air Force acquisition teams will be using a platform called deviceONE originally meant for sensor-data transmission on the department's Advanced Battlefield Management System (ABMS). The service has placed orders for 50 of the secret-level communications systems and hopes to distribute them to senior acquisition leaders so they can stay up-to-date on programs they oversee, Will Roper, the assistant secretary of the Air Force for Acquisition, Technology and Logistics, said last week. And more are soon to come. Jackson has this too.
A COBOL fix
As government unemployment systems struggle to process millions of new claims due to the coronavirus pandemic, IBM and the Linux Foundation are offering assistance to states in scaling state IT systems built on COBOL, the once-common but now-arcane programming language that still powers many government benefit programs. The U.S. has seen nearly 17 million people file for unemployment in the last three weeks as the coronavirus pandemic closes non-essential businesses, and officials like New Jersey Gov. Phil Murphy have publicly called for help from COBOL programmers who can scale state IT systems to meet growing traffic. Working with the Linux Foundation, IBM last week launched employment and volunteer forum and a technical forum where COBOL programmers can be matched with state agencies struggling to keep their aging infrastructure from collapsing under an unprecedented surge of requests. Ryan Johnston has more.
DOD's cyber-hygiene needs work
The DOD still needs to sharpen the basic cybersecurity skills of its workforce to defend against the most common and pervasive cybersecurity risks, according to a new Government Accountability Office report. The report details the department missing several deadlines to implement a variety of cybersecurity initiatives and a critical lack of accountability among DOD leadership for cyber-hygiene. The watchdog recommends that the CIO take action to implement previous recommendations and find better ways of ensuring participation in training. The report said without "decisive action," the DOD is left with a substantial risk of a successful cyberattack. Read more.
Universities are moving more than just classes online
Universities have moved the majority of their classes online, and now they are turning their focus to adapt other essential services, such as mental health counseling and class support, as well as student learning opportunities like performances and art exhibitions, to be remotely accessible to address the needs of students and the community at large. At several colleges, services like mental health counseling and urgent-care visits are being redesigned to accommodate social distancing guidelines. Betsy Foresman has this one.
Job of the Day
Deputy CIO
|Department of Transportation
The Deputy CIO supports and facilitates the duties, responsibilities and authority of the OCIO throughout the Department and the implementation of all applicable federal laws, regulations, policy and guidance. The Deputy CIO actively participates in establishing Departmental standards for Information Technology (IT) activities and for evaluating the quality, effectiveness, and use of all the Department's information systems. See this job and more.