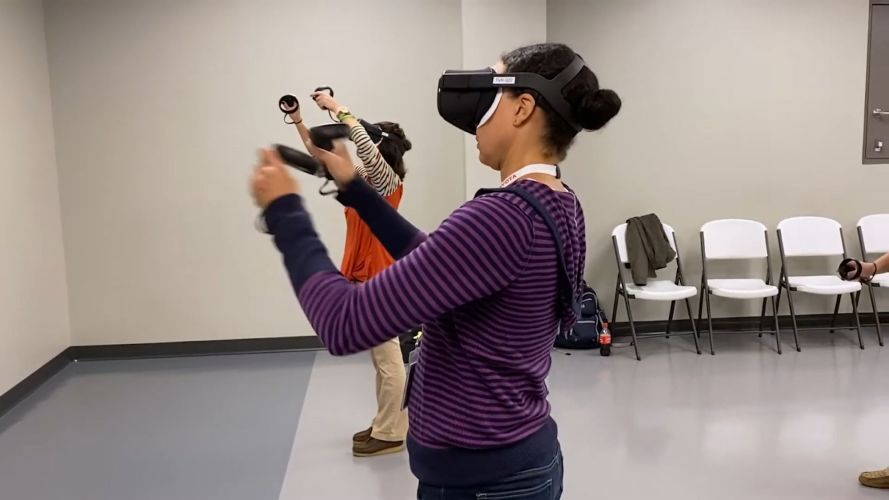 VR helps Texas students prepare career paths early
A community college in rural Texas on Tuesday released results of recent pilot studies showing that virtual reality is an effective tool at helping junior high and high school students select a career path. Coastal Bend College, a Hispanic-serving community college about 50 miles northwest of Corpus Christi, replaced paper-based assessments used at one junior high and two high schools with virtual reality software developed by Transfr that allows students to virtually test out various jobs, like auto mechanic or cabinet maker. College administrators said surveys given before and after VR showed the simulations dramatically boosted the confidence students had with their career options after high school. Colin Wood has more details.
A Message From AWS Educate
With over 1,500 institutions and hundreds of thousands of students who use AWS Educate, we wanted to take you on a trip around the world and highlight how students are learning and innovating with the cloud. Learn more.
FCC leader shares 'cautious optimism' for broadband expansion in schools
Acting Federal Communications Commission Chairwoman Jessica Rosenworcel offered measured confidence Monday about expanding broadband connectivity in schools following the pandemic. Addressing a virtual roundtable meeting of local officials from around Maryland, Rosenworcel promoted a trio of programs funded by Congress and the FCC aimed at improving connectivity for disadvantaged schools and communities. Those efforts include the FCC's ongoing broadband mapping initiative, a new $3.2 billion low-income broadband subsidy and $7 billion in technology funding for schools and libraries included in the recent $1.9 trillion pandemic relief package. Ryan Johnston has the latest.
Voting is open for FedScoop's Best Bosses
Voting is now open for the 2021 Best Bosses in Federal IT Awards! Cast your vote below to recognize and celebrate the top leaders in the government IT community. One of the most important facets of successful federal technology operations is strong leadership. At the center of the most efficient and effective IT organizations around government are tireless leaders, striving to deliver on their agency's mission and serve the American public through technology. Get involved here.
Think tank launches cybersecurity training for state officials
The nonprofit National Cybersecurity Center on Monday kicked off a new initiative to offer training sessions on cyber hygiene and IT security to elected officials in state governments and their staff members. The program will feature virtual briefings, on-demand workshops and other materials addressing not only good online safety measures, but also an overview of the many different cyberthreats state and local government face. Ben Freed is on it.
NGA picks four states for latest cyber policy academy
The National Governors Association announced Thursday that officials from Kansas, Missouri, Montana and Washington will participate in the group's cybersecurity policy academy. Running through next January, the policy academy will feature a series of seminars and meetings with NGA staff in which the states will hone their information security policies. Participants from Kansas and Missouri will focus on cybersecurity governance, Montana will tackle workforce development, while Washington will take on partnerships between the state and local governments. Ben has this one, too.
Northern Virginia city, Virginia Tech plan smart-city test bed
Officials in Falls Church, Virginia, plan to enlist Virginia Tech University and local transportation agencies to create a smart city "test bed" across 44 acres in the 15,000-person city later this year. With help from the Virginia Tech Transportation Institute and the Virginia Department of Transportation, the Washington, D.C., suburb will outfit a transportation grid with connected technologies increasingly common in larger cities, like adaptive street lights, connected traffic signals and sensors that help residents use their smartphones to find parking spaces. Ryan explains.
Job of the Day
Internet Systems Specialist
|House of Representatives
Are you a Drupal guru with proven hands-on experience in multi-site architectures? The Office of the Chief Administrative Officer is looking for an innovative, problem-solving and technologically savvy candidate looking for their next challenge – joining our team in our mission of providing excellent administrative, technical, and operational solutions so House Members can perform their Constitutional duties. Bring your talents to the Hill! See this job and others here.